Residential
Aluminum Fence

Our high-quality aluminum fences provide the ultimate combination of security and style for your property. Coated with a durable powder coat finish, these fences are resistant to rust and corrosion, making them perfect for use around pools and other outdoor spaces, as well as waterfront properties. The sleek, modern design of our fences will complement any home, while keeping both children and pets safe and contained within your yard without sacrificing style or visibility.

Learn More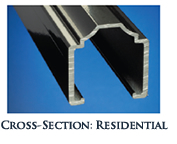 Our residential grade aluminum fence is an excellent choice for security and protection while still being the perfect neighbor friendly fence. Our residential grade aluminum fencing is constructed of 1-1/8"x 1" rails, 5/8"x 5/8" pickets, and uses 2"x2" or 2-1/2"x 2-1/2" post. Our horizontal rails have been engineered for a unique style and maximum strength.

The residential grade fence is available in six standard styles and is available in six standard colors: Black, White, Quaker Bronze, Walnut Brown, Beige and Hartford Green. Our residential grade fence is available in heights of 3', 3' 6", 4', 4-1/2', 5', and 6'.
We offer matching gates in single entry and double drive to match the six standard styles of fence.

We also offer Estate and Curved Top gates in residential grade fence to suit your needs. All gates include standard latch and hinges, self-closing and self-latching gate hardware are available upon request.



Available Styles

EFS-50 & EFS-55 are Special Order
*HOVER OVER EACH STYLE FOR MORE DETAILS*






Choose your fence style

Select the style that best compliments your home. From the clean lines and beauty of the contemporary, to an elaborate details and historically inspired styles, each of these designs makes a statement.

All residential styles can be configured to 1 5/8" spacing or have puppy pickets added to the lower portion of the fence. This customization decreases the space between pickets to half the standard amount, which is perfect for smaller dogs or any application your might have.



Powder Coat Colors
Black & Bronze available in two textures: matte or gloss finish


Gate Styles

Click on image to enlarge
Photos of Residential Aluminum Fence

Click on image to enlarge